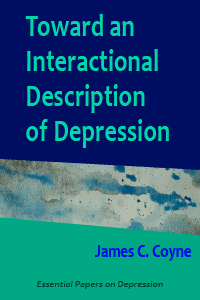 Toward an Interactional Description of Depression
Please provide your name and email to get free downloads.
Downloaded 529 times since
Excerpt:
Depression is conceptualized here as a self-perpetuating interpersonal system. Depressive symptomatology is congruent with the developing interpersonal situation of the depressed person, and the symptoms have a mutually maintaining relationship with the response of the social environment. Essentially, the depressed person and others within his social space collude to create a system in which feedback cannot be received, and various efforts to change become system-maintaining (61 pgs).