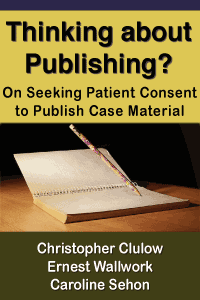 Thinking about Publishing? :On seeking Patient Consent to Publish Case Material
Publisher: Couple and Family Psychoanalysis
Please provide your name and email to get free downloads.
Downloaded 2044 times since
Excerpt:
The authors explore the context and dynamics of seeking consent from couples and families to publish material relating to their therapy. Clulow, Wallwork, and Sehon confront the challenges of balancing the duty of care to patients with other ethical responsibilities, and propose ways of managing this dilemma within the therapeutic process in accordance with contemporary analytic ideas about the interpersonal and intersubjective dimensions of therapeutic action. This collaborative effort aims to inspire dialogue on this important subject. (41 pp.)
Our staff has been up all night selecting the best new e-books to share. Will you send us a few bucks to keep the coffee flowing?