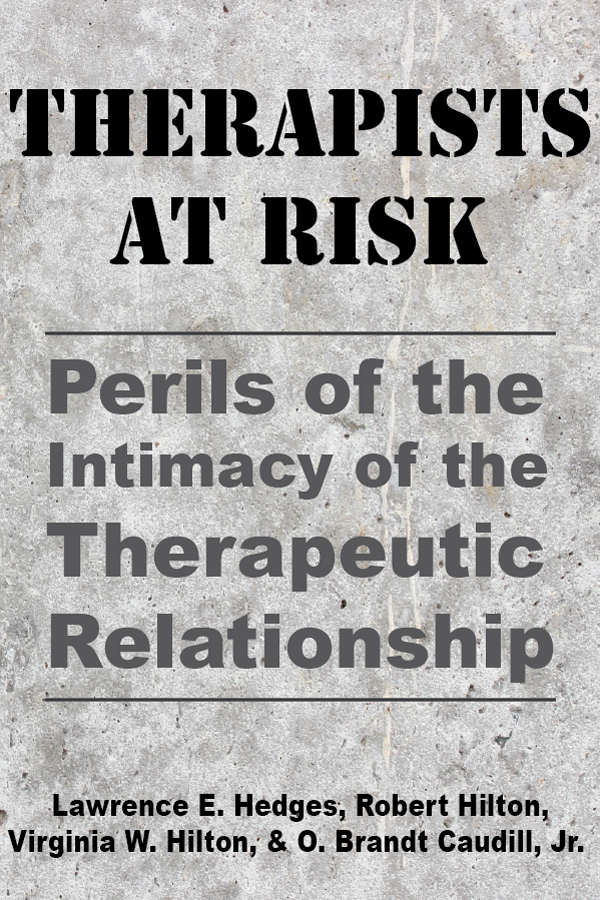 Therapists at Risk: perils of the intimacy of the therapeutic relationship
Publisher: Jason Aronson, Inc.
Please provide your name and email to get free downloads.
Downloaded 1099 times since
Excerpt:
Therapists are at risk, and the risk is increasing. Well-meaning practitioners used to believe that if they were adhering to ethical codes, and doing their best, they didn't have to worry about being sued or brought before licensing boards. but in today's litigious climate they are worried, and rightfully so. Their concern surfaces at the same time that the professions learning better ways to help particularly troubled patients who have often been badly abused and traumatized.
Dr. Hedges and his co-authors highlight
the leading ethical and legal dilemmas in therapy today
the management of malpractice exposure
the nature of memories and recovered memories and the causes of real and perceived abuse
the trauma pf psychotic transference and how to acknowledge and deal safely with sexuality
the plight of the accused therapist and his/her response to the attendant stress
the nightmare of legal claims and suits and the importance or support for the therapist
This book seeks to help clarify the issues, manage the dangers, and restore confidence in the psychotherapy process for clinicians who are experiencing fear, constriction, and loss of satisfaction in their work.
"Therapists at Risk addresses all those who work in depth with patients who at one time were considered untreatable. These very fragile and difficult patients present new technical problems, and with them the kinds of dangers to therapists that may appear in legal actions. Hedges revisits and expands upon his work on recovered memories, providing new insights into the nature of memory and its function in the therapist-patient relationship and also a penetrating assessment of 'truth' in the psychotherapeutic enterprise. The needs of patient and therapist can be a volatile mix indeed, and, using Hedges' concepts concerning the function of intimacy in the therapeutic interaction, the book describes the emergence of transference psychosis and the threats to therapists of lawsuits. Hedges and his co-authors move well past the traditional notions of countertransference to establish new parameters fo the therapist-patients interaction, as well as projecting the legal cautions that have become increasingly essential for therapeutic work."
Jacquelyn Gillespie, Ph.D.
Everyone who makes a donation of even a few dollars to this site has our permission to put "Official IPI Donor" on their CV.