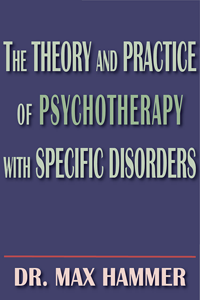 The Theory and Practice of Psychotherapy with Specific Disorders
Please provide your name and email to get free downloads.
Downloaded 3703 times since
Excerpt:
Essentially this book is designed to be used by professional psychotherapists in such fields as psychology, psychiatry, and social work as a source book for the understanding and treatment of a wide variety of adult psychological disorders. It will also be useful as a textbook for advanced courses in psychotherapy and as a supplementary text for basic courses in psychotherapy.
Written by some of the most outstanding therapeutic practitioners in the field of psychotherapy, this volume was created to provide the professional psychotherapist with exposure to the newest, most creative and most effective approaches available today in regard to the treatment and management of the most basic psychopathologies that he is likely to encounter in his clinical practice.
Each contributor to this book is a renowned authority in the area of the treatment of the particular psychological disorder about which he is writing. He shares with the reader his understanding of the basic nature of the disorder along with the therapeutic considerations and insights that he has found to be most valuable and essential in dealing effectively and successfully with the kind of patient under discussion. Case illustrations are amply and appropriately supplied to help clarify even further the therapeutic approach under discussion.
In addition to coverage of the major psychopathologies the text is unique in that it covers content areas rarely, if ever, discussed in other psychotherapy books.
Psychodynamics, Management, and Psychotherapy of Suicidal Patients
Psychotherapy of Patients with Psychosomatic Disorders
Psychotherapy of Patients with Acting-Out Disorders
Psychotherapy of Patients with Sexual Disorders
Psychotherapy with the Aged
Establishment of some basic criteria for an effective therapeutic process
The book is additionally unique in that it offers a new interpretation and theoretical discussion of the essence of the psychotherapeutic process which goes beyond the remediation of psychopathological symptoms. The reader is acquainted with the essence of the psychological growth process which enables one to continue one's personal growth beyond the removal of symptoms to the attainment of personal maturity, fulfillment, and self-actualization. (659 pp.)
Our staff has been up all night selecting the best new e-books to share. Will you send us a few bucks to keep the coffee flowing?