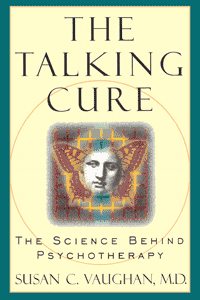 The Talking Cure: the science behind psychotherapy
Publisher: Grosset/Putnam
Please provide your name and email to get free downloads.
Downloaded 5710 times since
Excerpt:
If you've ever been in therapy, you may have wondered how just talking about your problems can affect how you think and feel for the rest of your life. You may also wonder what is going on in your therapist's mind. This brilliant book illustrates how the process of therapy—the long, sometimes tedious concentrated attention to core conflicts—actually alters the shape of our neurons, modifies the connections between nerve cells in the brain, and effects permanent changes in how we interact with the world.  Dr. Susan Vaughan, a superb writer, takes you behind the scenes of the fifty-minute hour, and tells you what the therapist is thinking while the patient is talking.
A psychoanalyst and a scientist, Vaughan interweaves stories from her sessions with findings from research. She shows how free-associating, interpreting dreams, and paying attention to childhood experiences have an impact on the structure of our anatomy. Just as repeated exercise can change the shape of our bodies, so can repeated attention to our conflicts, in the course of our work with a therapist, alter the shape of our minds. This book is a boon for patients who wonder why therapy works, and for therapists who know that it works but don't know what it does to the brain.
Now, armed with a scientific basis for its effectiveness, therapy can emerge from the shadow of Prozac. The Talking Cure is a powerful amalgam of the skill of the therapist and the science of the brain, wonderful to read and exhilarating to understand.
Reviews:
"This book has made a wonderfully readable beginning in what has seemed for so long an impossible task: to relate what goes on in the minds of analyst and patient to our rapidly evolving understanding of what goes on in our brains."
Myron A. Hofer, M.D.
Director-Developmental Psychobiology-New York State Psychiatric Institute
"A fascinating, original book. Explaining how modern neuroscience can help us understand the work of psychotherapy. Dr. Vaughan takes a significant step toward completing the task that Sigmund Freud began—offering a scientific basis for the workings of the mind."
Stanley Bone, M.D.
Training Analyst, Columbia University Center for Psychoanalytic Training and Research
"The Talking Cure makes a strong, even witty case for viability of its author's discipline….We need not be total victims of how we happen to have been programmed. As she reasons, convincingly, if a sea slug can have its mind changed, then so can we."
The New York Times
"Ambitious but highly readable."
The Washington Post Book World
"Vaughan helps us to understand how intensive therapy of any kind works."
Family Therapy Networker
"Susan Vaughan's brief for the talking cure is a bravely speculative book, one that links psychotherapy, that intimate technology for the mind, to neurophysiology, our cutting-edge window on the brain."
Peter D. Kramer, author of Listening to Prozac
"Caring and sensitive, Vaughan uses several case histories to demonstrate her methods…Thought provoking and informative."
 Booklist