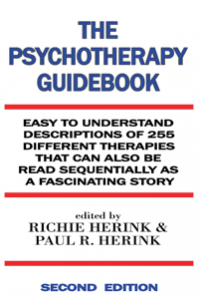 The Psychotherapy Guidebook
Please provide your name and email to get free downloads.
Downloaded 16850 times since
Excerpt:
This unique guide brings together clear, concise articles on 255 varieties of psychotherapy making it by far the best single overview of a complex and crowded field. Each article was written especially for this volume by a leading authority on that specific therapy, each article provides definitions of the therapy, its history, techniques and application. For the student, the therapist, the patient and the interested lay person. The Psychotherapy Guidebook is a vital charting of an area whose frontiers expanded beyond all previous imaginings. (1538 pp.)
Reviews:
….Guide through maze of psychotherapies…the smorgasbord of available approaches to psychological problems would confuse even the most stable client. To someone who is emotionally troubled, the staggering number of choices can be staggering … "The Psychotherapy Handbook" … describes more than 250 therapies now in use.
— Jane Brody, The New York Times
… The argot in this volume is relatively simplistic for the laymen to comprehend and any concept that seems advanced is elucidated. I recommend "The Psychotherapy Handbook" for anyone who is indecisive about where to seek psychological help as well as for folks, like myself, who are avid readers of psychology books.
— Anonymous, Barnes &amp, Noble
…. What an amazing reference for student and mental health practitioners. This book contains every therapy that you have heard of and hundreds you probably wouldn't believe ever existed.
— Michael Cohen, Amazon.com
Everyone who makes a donation of even a few dollars to this site has our permission to put "Official IPI Donor" on their CV.