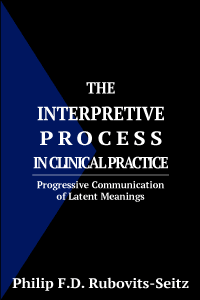 The Interpretive Process in Clinical Practice
Publisher: Jason Aronson, Inc.
Please provide your name and email to get free downloads.
Downloaded 3964 times since
Excerpt:
This book illustrates the process of clinical interpretation. The first phase of interpretation consists of collecting and observing clinical data, and the second entails understanding, justifying, progressively modifying, and communicating latent meanings to the patient. This interaction is upsetting because the therapist points out the patient's mistaken perceptions and beliefs.
To make the pivotal subject of interpretation as accessible, useful, and interesting as possible, clinical illustrations are used throughout the book. Following each vignette, the author presents his own interpretation and commentary, so that readers can compare constructions and interpretative reasoning. He details the two stages of interpretation in each example so that readers can follow the process of moving from understanding to verbal intervention.
The book includes clinical illustrations from a continuous case report of an entire treatment. The most relevant and revealing interpretations are selected, and intervening clinical developments are summarized. This helps the therapist follow the interpretations and their outcomes, and to see how interpretive problems are solved. (410 pp.)
Reviews:
"This book on the interpretive process in clinical practice is a veritable tour de force. The author demonstrates rather compellingly that clinical interpretation, when done well, is not only an inspired art form, but also a rigorously disciplined science. Interpretation is not simply about intervention, rather it is an ongoing process between patient and therapist who, by way of a series of thoughtfully conceived interpretive techniques, strives to convey (both verbally and nonverbally) this understanding to the patient. The ultimate goal is development within the patient of her own capacity for self-reflection and understanding.
Ever true to his belief that the interpretative process is primarily a form of inquiry and that the therapist's primary job is to learn and not to teach, Rubovits-Seitz goes on to offer a dazzlingly brilliant case illustration that provides the reader with a bird's eye view of a master clinician at work, amply demonstrating his giftedness as both artist and scientist. This is an intriguing work that cannot help but transform the reader's understanding of the interpretative process and the manner in which she conducts her practice."
—Martha Stark M.D., Harvard Medical School
"Dr. Rubovits-Seitz presents a brilliant discussion of the interpretive process, using detailed clinical illustrations to describe its fundamentals, strategies, and fallibilities. He discusses the nature of clinical data, methods of observing, recording, and processing, clinical data, the derivation of interpretations, construction, reconstruction, strategies of justification, and the verbal formulation and communication of interpretations.
In a case presentation unparalleled in the literature, he illustrates these principles as they apply to twelve sessions selected at various points in the course of a completed treatment. I have never before read such a detailed, erudite, and clear account of the ways in which a therapist goes about understanding his patient, formulating his interpretations, and justifying those formulations during the course of a treatment.
This book is not just a coup d'etat in the field of the scientific study of interpretations. More than that, it is of inestimable value to the working clinician who is interested in understanding how interpretations are formulated and how they are justified throughout the entire therapeutic process. It will be of great value both to researchers of the psychoanalytic process and to the working clinician. I recommend it highly."
—Sydney E. Pulver M.D.
Philadelphia Center for Psychoanalysis
Everyone who makes a donation of even a few dollars to this site has our permission to put "Official IPI Donor" on their CV.