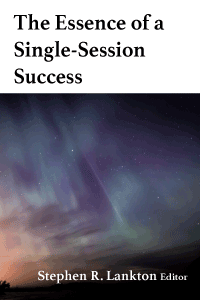 The Essence of a Single Session Success
Publisher: Brunner/Mazel
Please provide your name and email to get free downloads.
Downloaded 6010 times since
Excerpt:
The majority of the issue concerns a rich array of inspiring thought and commentary about how therapy can be interpreted and viewed from nine experts responding to a successful single brief therapy session. This session, conducted by Stephen Lankton, M.S.W., concerned a client suffering from chronic anxiety and severe anxiety attacks. Analyses of the case transcript and video came from Richard Fisch, M.D., William Matthew's, Ph.D., Lynn Johnson, Ph.D., Robert Schwarz, Psy.D., Jane Parsons-Fein, M.S.W., Bradford P. Keeney, Ph.D., Gregg Eichenfield, Ph.D., Carol Kershaw, Ed.D., Betty Alice Erickson, M.A., and Robert Pearson, MD. Other articles provide thoughtful material on theory, context, case research, and short term therapy, as well as a look at Milton Erickson's explanation of his own work.