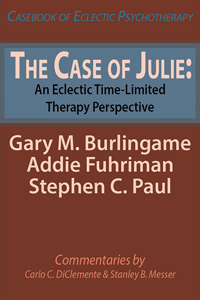 The Case of Julie
Please provide your name and email to get free downloads.
Downloaded 201 times since
Excerpt:
This chapter presents a case in which the therapist followed a model of eclectic time-limited therapy (ETLT) developed at the University of Utah Counseling Center. In the first section of the chapter the approach is placed in the larger context of general time-limited or brief therapy, and the process stages and basic elements on which the model is based are introduced. The majority of the chapter presents actual case transcript material with elaborating comments added by the client, therapist, and model authors. At the end of the chapter, we have added a short description of a second case for comparative purposes, highlighting the potential for differing applications of the model. Hopefully, the chapter will serve as a good illustration of how the approach can be flexibly adapted to incorporate various theoretical concepts and intervention tactics. 89 pp.