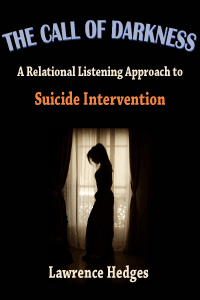 The Call of Darkness: a Relational Listening Approach to Suicide Intervention
Publisher: International Psychotherapy Institute
Please provide your name and email to get free downloads.
Downloaded 3833 times since
Excerpt:
The White House has declared suicide to be a national and international epidemic and has mandated suicide prevention training for educational and health workers nationwide. The Call of Darkness was written in response to that mandate and begins with the awareness that our ability to predict suicide is little better than chance and that at present there are no consistently reliable empirically validated treatment techniques to prevent suicide. However, in the past three decades much has been learned about the dynamics of suicide and promising treatment approaches have been advanced that are slowly yielding clinical as well as empirical results.
In this book, Dr. Hedges presents the groundbreaking work on suicidality of Freud, Jung, Menninger and Shneidman as well as the more recent work of Linehan, Kernberg, Joiner and the attachment theorists along with the features in common that these treatment approaches seem to share. He puts forth a Relational Listening approach regarding the origins of suicidality in a relational/developmental context and will consider their implications for treating, and managing suicidality. The tendencies towards blame and self-blame on the part of survivors raise issues of professional responsibility. Dr Hedges discusses accurate assessment, thorough documentation, appropriate standards of care, and liability management (402 pgs).
Review:
In his new book The Call of Darkness: A Relational Listening Approach to Suicide Intervention Dr. Hedges turns his attention to the topic of suicide both generally and specifically in how it relates to the impact of therapists' work with their patients.  Those already familiar with Dr. Hedges Relational Listening Perspective will understand his view of suicidality as a relational problem at its core established in the early "organizing" level of development.  For those just being introduced to the work of Dr. Hedges, they will receive an excellent primer on his thought process and unique approach to psychotherapy and analytic work.  However, this book presents much more than one theorist's views on the subject. This well researched book covers just about everything one could hope to know about suicidality from its history and impact on society to famous examples, theoretical approaches and suggestions for treatment. Ultimately the greatest take away from this book may be to remove some of the mystery and fear surrounding the topic of suicide making it easier to approach the topic and work with patients in the consulting room especially with those suffering from their own Call of Darkness." — Brendan M. Baer M.A., LMFT