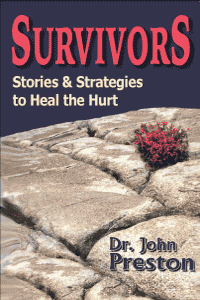 Survivors: Stories & Strategies to Heal the Hurt
Publisher: Impact Publishers, Inc.
Please provide your name and email to get free downloads.
Downloaded 5666 times since
Excerpt:
In this book, John Preston gives the reader a kind of "advance map of the territory" to help prepare for the journey of living through emotional pain. He's written this book to share some of what has been learned about human emotions and emotional healing, to separate fact from fiction. (There's a lot of fiction out there these days!) The material in this book comes from numerous sources but is drawn primarily from a large body of sound scientific research in psychology. It will help you more fully understand human emotional reactions and, perhaps more important, to look very specifically at ways to help yourself get through difficult times. And, along the way, you'll see how each of four people — like you, human beings with the capacity to heal — took action that helped them to deal with and grow beyond their emotional pain. (216 pp.)
Reviews:
The very first stop to take in emotional healing is to become aware of and to acknowledge that, "This is human stuff… I sure don't have to like it, but it's real, it's normal, and it matters." You are not alone in your pain. This book looks at the lives of four people—Survivors—who've gone through some rough experiences and are plagued by significant emotional despair. They can't just ignore it—their feelings are dominating their lives. These are not cases of mental illness, but examples of ordinary human beings living through painful times, who learn the strategies for tapping into the inherent capacity to heal from deep emotional wounds. "Highly recommended!" – Michael J. Mahoney, Ph.D.
"Preston's warm and unpretentious style and use of compelling, real examples result in an interesting and useful book… will either help people to help themselves, or learn that they might benefit from professional help." – Cliff Straehley, M.D.
"Preston's book is designed to take the stigma and shame out of 'emotional problems'… he has a realistic approach that acknowledges limitations while recognizing strengths. At the heart of his work is a focus on the ability to develop compassion for one's self." – NAPRA REVIEW