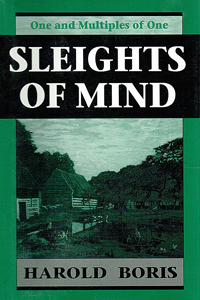 Sleights of Mind
Publisher: Jason Aronson, Inc.
Please provide your name and email to get free downloads.
Downloaded 3827 times since
Excerpt:
"Harold Boris is one of the most interesting and creative writers currently contributing to psychoanalysis. In Sleights of Mind: One and Multiples of One, Boris has brought together for the first time a broad sampling of his previously published papers as well as two new essays dealing with the 'couple and the pari.' This singular volume provides an opportunity for the serious clinician to follow the evolution of this important thinker in his travels through rural Vermont and his studies of discord between mental health helpers and the resident culture, more formal experiences with groups, informed by his assimilation of Bion, and his final destination in treating and observing the individual, ever in oscillation with the surrounding group.
Boris is an exhilarating writer, clearly loving words and bringing them to dance before the reader's eyes. We learn, for instance, from his valued contributions on anorexia, of tensions and paradoxes between what is in hand and what is longed for, about presences and absences, about the 'good enough' and the 'envied unattainable.'
In the new essays on the couple and the pair, Boris seems to have reached the synthesis and understanding that he had been seeking in his previous offerings. As the couple loves and seeks differences and desire, the pair (and group, society) assumes identity, selection, hope, and solace. Both are competing solutions to aloneness and isolation, yet each state generates envy in the other. 'Fundamentally they exist at one another's expense.'
Throughout his essays, we hear dialectics framed in words that quest after self-examinations and understanding: Boris even exposes the frustrated protestations of patients who even what more than these from the therapist. This annotated compilation of Boris's works provides a challenging and stimulating vision of the task of therapy and of the human condition to each of us seeking new and compelling ways to approach our professional art."
—Andrew P. Morrison M.D.
Harvard Medical School
(732 pp.)
Reviews:
"Boris tells you what the patient said, what he himself said, how the patient responded, what they did with each other, and what it all meant to both of them. He doesn't say the sessions were 'powerful and moving.' He gives you the data that allows you to experience it as moving and powerful.
It has been said that despite all our chatter about real connections, only weak inclinations toward interpretation are the norm. Boris's community with patients is more than that. He risks presence, and he makes it all real. His writing arrives as a refreshing antidote to the common pallid absence of hope and risk in human connectedness.
From discussions of group experience to discourses on specific problems such as anorexia and disquisitions on rarely considered aspects of analytic theory, Boris offers his unique voice and literate writing style with the imagistic skills that make what is otherwise abstruse or arcane come to life. These papers are a pleasure to read and think about."
–Arthur H. Feiner Ph.D., Editor Contemporary Psychoanalysis
"For years, Harold Boris gathered up choice tidbits of psychoanalytic truth and melted them down over a flame fueled both by intense emotional contact and discriminating intellectual vigor. Out of the resultant amalgam, Boris painstakingly crafted a unique prism through which he then channeled his own as well as his patient's experiences. Now he projects a brilliantly colored spectrum of meaning onto the pages of his new book—meaning that broadens and deepens, enriches and enlivens our field of vision into the human psyche. Whether working with One patient or Multiples of One, mental health professionals will find this book most illuminating and inspiring. What's more, his always refreshing and sometimes refractory style—sans jargon and cliche—serves us by touching the heart while defying conventional wisdom. Upon reading Boris's Mind, I can feel myself squinting and straining to meet his unspoken challenge—to linger in the darkness as long as it takes to see the patient in a new light!"
—Judith L. Mitrani Ph.D., Psychoanalytic Center of California Society & Institute