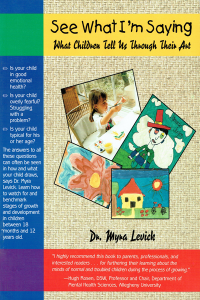 See What I'm Saying:What Children Tell Us Through Their Art
Publisher: Islewest Publishing
Please provide your name and email to get free downloads.
Downloaded 25524 times since
Excerpt:
Is your child in good emotional health? Overly fearful? Struggling with a problem? Typical for his or her age? Myra Levick, Ph.D., says that the answers to all these questions can be seen in how and what your child draws. Dr. Levick, recognized expert in the filed of art therapy, discusses what children communicate through their art and gives practical tools for assessing their intellectual development and emotional development. A psychologist and an art psychotherapist, Dr. Levick is a pioneer in art therapy education. She served as the first president of the American Art Therapy Association and as Editor-in-Chief of The Arts in Psychotherapy, an international professional journal. Long associated with Hahnemann University in Philadelphia as Professor and Consultant, Dr. Levick currently is Director of the South Florida Art Psychotherapy Institute. In addition to conducting annual training seminars, Dr. Levick also serves as a guest lecturer and teacher here and abroad. (150pgs)
Our staff has been up all night selecting the best new e-books to share. Will you send us a few bucks to keep the coffee flowing?