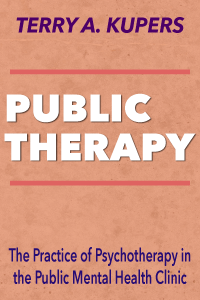 Public Therapy:The Practice of Psychotherapy in the Public Mental Health Clinic
Publisher: Free Press
Please provide your name and email to get free downloads.
Downloaded 1573 times since
Excerpt:
"There is a double standard in the distribution of mental health services," Terry Kupers observes in his introduction to Public Therapy: The Practice of Psychotherapy in the Public Mental Health Clinic. "An overwhelming majority of therapists practice in exclusive white communities while public clinics, which are generally the only mental health services available in minority and low-income communities, are severely underbudgeted and overcrowded."
It is hardly surprising that such conditions exist in the public clinic, which must treat anyone–whether by personal choice, as a follow-up to psychiatric hospitalization, or by referral from police, courts, or local physicians–who cannot afford private therapy. Waiting rooms become jammed, public therapists see clients briefly, and many must resort to medications and involuntary hospitalizations that serve more as social control than as effective treatment. Moreover, those therapists who decide on a lucrative private practice often rationalize their preference by contending that the poor lack not only the means to pay for psychotherapy but the intellectual and emotional resources needed to respond to it.
Kupers challenges the conventional view concerning therapy for the poor, showing that many low-income clients–including those who have been labelled "chronic" or have long been treated solely with tranquilizers–can benefit tremendously from dynamic psychotherapy. He does not, however, minimize the daily obstacles that face therapists who practice in a public setting. Indeed, one of his primary concerns is to introduce a wide readership to the hard realities of the public clinic and, through case histories, to the plight of low-income clients.
Sharing the ideas and techniques he has developed from years of community mental health experience, Kupers discusses issues of critical concern: clients who consistently fail to show up, racial tensions that complicate staff and therapeutic relationships, the effects of social and economic hardships on depression, advocacy as a therapeutic intervention, training in the public clinic, termination, staff burnout, and others. Throughout he avoids medical and technical jargon and attempts to give a strong, vivid description of public therapy's problems and prospects, its personal and social dimensions.
Public Therapy is intended for psychiatrists, psychologists, social workers, and counselors who believe that low-income clients need and deserve better treatment than can be provided from a bottle of Thorazine. It is also meant as a frank rebuff to those who insist that dynamic psychotherapy is effective only with the affluent.(382 pp.)
Everyone who makes a donation of even a few dollars to this site has our permission to put "Official IPI Donor" on their CV.