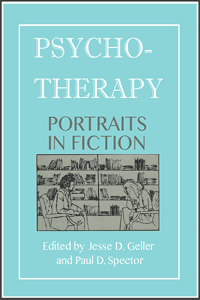 Psychotherapy: Portraits in Fiction
Publisher: Jason Aronson, Inc.
Please provide your name and email to get free downloads.
Downloaded 4594 times since
Excerpt:
From its inception, the "talking cure" has existed on the elusive boundary between art and science. Patients and therapists often have real difficulty in describing the experiential reality of therapy. When people attempt to learn about psychotherapy by reading academic textbooks they usually come away dissatisfied, perhaps feeling like the psychoanalyst Helmuth Kaiser, who once compared reading a textbook of psychotherapy to "trying to decipher a melody by looking at the grooves on the record."
This book contains nineteen fictional portrayals of psychotherapy. Like all good works of fiction it will appeal to many audiences: experienced psychotherapists, those in training, people who are currently in, have been in, or who are thinking about entering, psychotherapy, and everyone who appreciates good short stories about the complexities of human relationships. The origin of this volume stems from the awareness that works of the imagination can make concrete and palpable the atmosphere, texture, rhythm, nuances, and tension of therapy.
Both the fiction writer and the psychotherapist are commentators and interpreters, reconstructing the past through the telling of stories. The metaphors created by artists may stand closer to the experience of a lived psychotherapy than do the elegant abstractions of scientists.
While many of the stories in this anthology show the successes of therapy, some reflect the difficulties and failures. These stories neither propagandize for the effectiveness of therapy nor present an idealized image of the psychotherapist. In general, they focus on the neurotic and character problems and the crises of everyday living–the inability to love, blocked creativity, the incapacity to mourn–the people bring to psychotherapy. These stories also reflect the complex ways in which patients and therapists interact, touching on a variety of central therapeutic issues. (321 pages)
Reviews
"In Psychotherapy: Portraits in Fiction, Geller and Spector have turned a terrific idea into a remarkably good book. The 19 stories they've collected for this volume—some comical, some dramatic, some illustrating therapeutic failures, others success—explore a wide range of issues that we face daily in our psychotherapeutic work. Gifted writers, we know, are often more successful than even the most gifted therapists at conveying basic truths of human nature. In this volume, a group of notable authors, including John Updike, Bruce J. Friedman, and Joyce Carol Oates, write about the risks, tensions, process, ethical dilemmas, limitations, and absurdity inherent in the psychotherapeutic situation. Their skill is in consistently illuminating those subtle aspects of psychotherapy that invariably get overlooked in more scholarly textbooks or theoretical papers Geller and Spector are to be commended for their choices as well as their short but extremely focused introductions to each of the selections."
—Barry A. Farber, Ph.D.
"What really goes on in psychotherapy? Psychology students and the general, public remain intrigued by this question and are often dissatisfied with jargon and abstract answers. In this delightful book, Geller and Spector have compiled nineteen well-written short stories or book excerpts that present a broad panorama of the possible kinds of encounters one can find in psychotherapy. Their deft and succinct introductions point out the critical issues in psychotherapy, exemplified in each selection, and provide the reader with a primer of the realities of the psychotherapeutic process. The book is a feast of fine reading about the range of possible human encounters in the special twentieth-century social structure of psychoanalysis or psychotherapy. The articles encompass humor and bitter irony as well as pathos, tragedy, and inspiration. We see the pomposity and self-delusion of some therapists, but we also see the struggle and commitment of others to helping another person to fulfillment and growth. This book is deeply instructive and also a pleasure to read."
—Jerome L. Singer, Ph.D.
"Freud was ruefully aware of how much his case histories resembled pieces of fiction, now the reader has a chance to reverse the comparison. The stories in this collection not only capture the narrative truth of the therapeutic encounter but in so doing, help to show how imagination can become a window on the world. Fiction still persuades, and good fiction persuades persuasively. Read Updike and Rossner and the other authors assembled here to deepen your understanding of the impossible profession and to discover what you will never find from case histories alone."
—Donald P Spence, Ph.D.