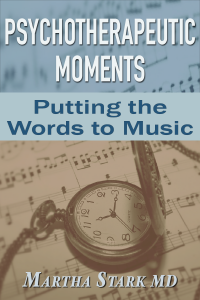 Psychotherapeutic Moments: Putting the Words to Music
Publisher: International Psychotherapy Institute
Please provide your name and email to get free downloads.
Downloaded 4516 times since
Excerpt:
PSYCHOTHERAPEUTIC MOMENTS offers the reader a glimpse of what takes place in the office of a psychoanalyst who, although trained in the tradition of maintaining neutrality and striving always to keep the countertransference at bay, has evolved over the course of the decades into a much wiser, much more accessible, much more generous, and, ultimately, much more humane participant in both the ongoing healing process and those watershed moments that will inevitably emerge when two people deliver themselves, heart and soul, into the intimate space between them. (149 pp.)
Reviews
"Dr. Stark brilliantly describes the psychoanalytic process moment-to-moment in real time, as we sit with our patients. This gives the learning a personal depth hardly to be found in the field. Martha pays equal attention to internal healing by the patient and internal healing by the analyst (or dynamic therapist). This provides a huge release for people in our field. It becomes a source of profound optimism for practitioners at every level. Martha's approach to depth learning is a truly optimistic antidote to compassion fatigue and therapeutic burnout. And it initiates a turning point to the future of our field, indicating how teaching psychoanalysts will look and feel in the coming decades."
—Jack Danielian Ph.D., San Antonio, TX
"Many years ago, Dr. Stark inspired me to shift my psychotherapy focus towards psychoanalytic psychotherapy and, ultimately, towards training in psychoanalysis. Her classes and individual supervision made the field of psychoanalysis alive for me. Dr. Stark is a profoundly generous, insightful, and intelligent teacher and mentor. My psychotherapy practice would not be as rich and rewarding without her influence."
—Carolyn Stack Psy.D., Cambridge, MA
"I want to express my appreciation for the extraordinary learning experience that Dr. Stark's course has afforded me. It has had a profoundly transformative effect on both my way of working clinically and my understanding of the complex territory of analytic though. I am truly grateful for this exquisite experience."
—Laurie Scheck, Pittsburgh, PA
"You are a rock star, Martha! Thank you from the bottom of my heart!"
—Jennifer Edwards Psy.D., Norfolk, MA
"I registered for Martha's course because I am aware of the originality and depth of her theoretical—and practical—approaches to psychoanalytic psychotherapy. I saw this as an excellent opportunity to consolidate and extend my knowledge of her models."
—Bruce Thompson Ph.D., Providence, RI
Everyone who makes a donation of even a few dollars to this site has our permission to put "Official IPI Donor" on their CV.