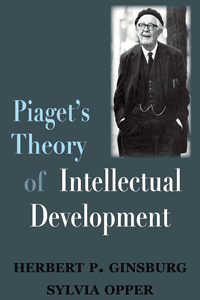 Piaget's Theory of Intellectual Development
Please provide your name and email to get free downloads.
Downloaded 6763 times since
Excerpt:
This volume contains an up-to-date presentation of Piaget's theories, and explains their relevance to contemporary education. The Third Edition is updated to include a description of important work, particularly on development and learning, conducted during the last 10-15 years of Piaget's life. (344 pp.)
Reviews
"…it is quite clear that (this book) will enable many readers already well acquainted with Piaget's theory to explore his reasoning more deeply. It is not concerned with lengthy discussion or criticism, but provides, …a concise description and clear analysis of Piaget's thought and work."
– from the forward by Bärbel Inhelder
Our staff has been up all night selecting the best new e-books to share. Will you send us a few bucks to keep the coffee flowing?