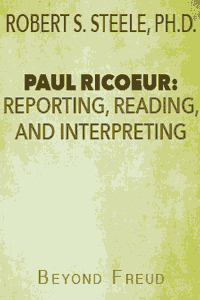 Paul Ricoeur:Reporting, Reading and Interpreting
Please provide your name and email to get free downloads.
Downloaded 152 times since
Excerpt:
Ricoeur's essays on Freud in The Conflict of Interpretations and Freud and Philosophy are part of the "return to Freud" movement which began in France in the late 1950s, flourished throughout the sixties, and was imported to America in the late seventies. Whereas Lacan was the charismatic, enfant terrible, psychoanalytic spokesriddler for "Freud's French Revolution: Ricoeur was the the academic philosopher and scion of the rich phenomenological tradition. For the French, American ego psychology is, if not anathema, at least in the dialectical position of antithesis to their synthesis. Where the Americans have stressed assimilation to the rigors of science, testing Freud's thought empirically, clarifying it by simplifying its ambiguities, and establishing sounder relations with biology, the French have abhorred the medical, scientific, and normative use of Freud by ego psychologists.