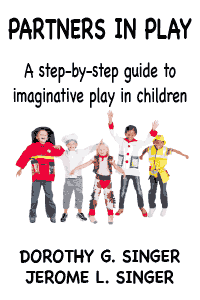 Partners in Play: A Step-by-step Guide to Imaginative Play in Children
Publisher: Harper & Row
Please provide your name and email to get free downloads.
Downloaded 6788 times since
Excerpt:
Partners in Play is an invitation to everyone who spends time with pre-school children–parents, nursery school and day care teachers, babysitters, grandparents–to increase the pleasure and value of the children's play by fostering imagination and fantasy.
Psychologists Dorothy and Jerome Singer have written a practical book that lays down the basic principles of fantasy play and then presents, in a step-by-step format, explicit games that will develop body mastery, stimulate the various senses, and encourage make-believe. For each game they enumerate the materials necessary (usually simple, inexpensive, and often found around the house), procedures for play, and variations that extend the repertory of games. There are games that can be played indoors or outdoors, games suitable for the solitary child or groups, for the ailing child, the bored youngster fidgeting in the doctor's waiting room, the active boy or girl who needs to channel all that energy constructively. Appropriate ways to utilize television without allowing it to take over imaginative play are spelled out.
For children themselves, the benefits of such play are significant and long-range. The developed imagination helps memory, vocabulary, the sense of self, the ability to master the environment, and the capacity for adaptation. Grownups and children share in the rewards of this loving and stimulating partnership, and the child whose imagination has been nurtured becomes a far more creative adult.(276 pp.)