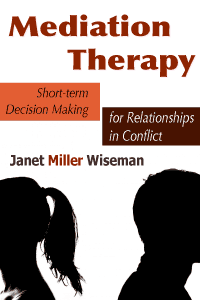 Mediation Therapy: Short-Term Decision Making for Relationships in Conflict
Please provide your name and email to get free downloads.
Downloaded 7667 times since
Excerpt:
Reaching decisions about whether to marry, divorce, or separate, to live with someone, or to institutionalize an aging parent or a special needs child can be extremely painful. Couples and their families facing such critical choices often reach a stalemate. By the time many couples seek professional help they are often so angry and in such conflict that even the most experienced clinician or counselor can feel overwhelmed.
Blending a therapeutic approach with skills drawn from mediation, conflict resolution, and decision making theory, this practical sourcebook shows mental health professionals how to help couples and their families reach a decision about their future through sensitive, structured intervention. Mediation Therapy details proven techniques and strategies to help clients understand their own needs and to increase their abilities to see other points of view. Miller Wiseman's approach is uniquely designed to facilitate the process through which couples and families can come to a conclusion–one that is fully explored, completely understood, and responsibly made.
This thoughtfully written, accessible guide:
provides questions for therapists to reflect upon which will help them discover their own values and biases that may affect their therapeutic work
describes the latest research on the effects of separation and divorce on children and adolescents and how to use this information in the mediation therapy process
The mediation therapy process can be adapted for use in a myriad of settings: for recovering alcoholics and their co-dependent spouses, by evaluation teams for special needs children, in prisons, in inpatient psychiatric units, in nursing homes. This valuable guide shows clinicians how to facilitate the process of decision making, how to maintain a neutral stance, and, perhaps most importantly, when it is appropriate to "let go" of the process and allow couples and families to guide themselves to appropriate resolutions.(407 pp.)