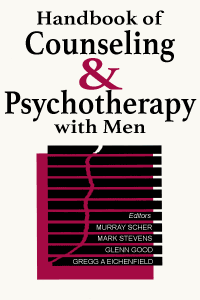 Handbook of Counseling & Psychotherapy with Men
Publisher: Sage Publications
Please provide your name and email to get free downloads.
Downloaded 5806 times since
Excerpt:
How is the therapeutic encounter different with males than with females? Can a therapist use the same techniques when treating men from different ethnic backgrounds? What therapy techniques are best suited for treating gay men or AIDS victims? Does the age of a male client affect the therapy techniques used during counseling? A first of its kind, this tightly edited, comprehensive volume successfully bridges the gap between theoretical knowledge (of the socio-psychological issues) of male sex role socialization and the therapeutic encounter with men. From counseling with single fathers to counseling with gay men and AIDS victims, from counseling with the male substance abuser to men in prison, the Handbook of Counseling and Psychotherapy with Men provides practitioners with practical suggestions for implementing positive behavior change in men and offers examples to anchor the theoretical considerations and research findings presented.
Handbook of Counseling and Psychotherapy with Men will serve as an excellent reference tool for practicing mental health professionals and counselors, as well as an ideal textbook for graduate courses in psychology, counseling, social work, and related disciplines. (704 pp.)