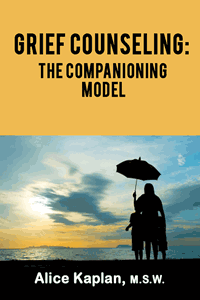 Grief Counseling: The Companioning Model
Publisher: International Psychotherapy Institute
Please provide your name and email to get free downloads.
Downloaded 12821 times since
Excerpt:
When a loved one has died, families need comfort, they need to be with others who have suffered a similar tragic loss. They need to tell their stories and they need someone to listen. Companioning is not therapy. It is an interactive experience between the bereaved and the companion. It is in the opening up to an empathic person or a group of caring individuals that the healing takes place. Listening is powerful, it is a gift we can offer to people in distress. (44 pp.)
Reviews
"This tender, gentle, and achingly authentic gem of a book by Alice Kaplan is a must-read for anyone who has loved and lost. Unpretentious and down-to-earth, Grief Counseling: The Companioning Model explains the philosophy underlying Dr. Alan Wolfelt's companioning model of grief work and demonstrates, by way of a number of evocative case vignettes, the remarkable effectiveness of Wolfelt's interactive approach to the healing of broken hearts. The companioning model speaks to the importance of being able to tell one's story and of having others "bear witness" to the anguish of one's devastating heartbreak and sorrow.
Kaplan, a facilitator for 11 years in the Wolfelt-inspired bereavement program at The Den for Grieving Kids (in Greenwich, CT), understands, from the inside out, the healing power of offering, to children and families struggling to live with the pain of their grief, a safe place for them both to acknowledge and, ultimately, to embrace their feelings of loss, alienation, and aloneness. The result of Kaplan's long-time involvement at The Den is this modest but rivetingly unforgettable volume, which serves as a testament to how profoundly life-changing it can be for someone in pain to be welcomed into a supportive community of kindred souls offering ongoing compassion, respect, understanding, comfort, connection, acceptance, and love. Such an immersion experience, reinforced by the use of masterfully conceived rituals and traditions that have become the program's trademark, enables people with broken hearts, over time, to feel less invisible and less lonely, to discover new meaning in their lives, to find inner peace and calm, and, finally, to become better companions to themselves.
In sum, this unassuming but quietly compelling book is a poignant reminder to us all of how necessary it is for those who have tragically lost a loved one to find a "facilitating environment" that will allow them, first, to confront the reality of their loss and, then, to grieve the pain of their heartbreak. But, at the end of the day, Grief Counseling is an uplifting and inspirational narrative about the transformative power of connection, of love, and of presence, and, for all of us who have experienced a heartfelt loss, this thoughtful and wise volume offers us hope that we too will be able someday to develop both a new-found commitment to living and a renewed sense of possibility about our futures – even as we never forget the loved one we lost…"
Martha Stark, M.D.
Faculty, Harvard Medical School
Everyone who makes a donation of even a few dollars to this site has our permission to put "Official IPI Donor" on their CV.