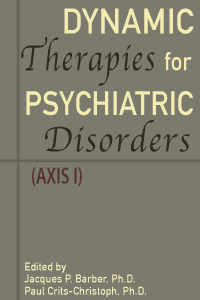 Dynamic Therapies for Psychiatric Disorders:Axis I
Publisher: Basic Books
Please provide your name and email to get free downloads.
Downloaded 8585 times since
Excerpt:
The growing demands of managed care and the increased sophistication of psychotherapy research have helped push researchers and practitioners beyond the question of whether psychotherapy is effective. In today's climate we must know what treatments are effective for what types of patients. This trailblazing book offers an important first step in establishing those distinctions within a dynamic perspective. The editors of this volume asked experts in the psychodynamically oriented treatment of various disorders (including depression, panic, generalized anxiety, drug or alcohol abuse, eating disorders, post-traumatic stress, schizophrenia, dissociative states, grief reactions, and HIV-related issues) to write in detail about the techniques they use.
While the range of dynamic approaches offered here varies from interpersonal to object relations to self psychology, the contributors all present their techniques in a uniform way that makes it easy for practitioners to put them to immediate use. Each chapter presents the history and development of the method, the selection criteria used for treatment, specific dynamic issues, treatment goals, theory of change, techniques, vivid case examples, training issues, and empirical evidence for the approach.
All the techniques have been used extensively in clinical settings. Several have also been rigorously tested in research comparing different forms of treatment for specific disorders. With its detailed techniques, its theoretical sophistication, and its impressive array of contributors, this book will go far in advancing the science and art of psychotherapy. (707 pp.)
Reviews:
"This book is truly unique in bringing together theorist/clinicians representing a diversity of psychodynamic models of therapy, all sharing the common goal of applying dynamic interventions to DSM Axis I disorders. Reading this book should be a high priority for psycho-dynamic therapists who aim to be relevant in the current health care delivery system."
—Jeffrey L. Binder Ph.D., A.B.P.P.
Georgia School of Professional Psychology
"Kudos to the authors and contributors for their groundbreaking contribution. Their comprehensive and well-organized book offers state-of-the-art, empirically demonstrated, effective treatment approaches for Axis I disorders. Suitable for both seasoned clinicians and students, this remarkably pragmatic book will serve as an invaluable resource in the changing mental health environment."
—Carol Tosone Ph.D., C.S.W.
Shirley M. Ehrenkranz School of Social Work, New York University