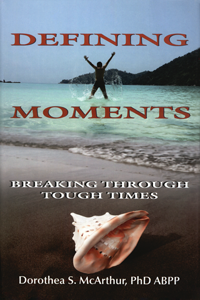 Defining Moments:Breaking Through Tough Times
Publisher: Cove Press
Please provide your name and email to get free downloads.
Downloaded 9403 times since
Excerpt:
Presents effective ways to examine unresolved issues that may be causing anger, anxiety, or depression by looking at each one's life story to discover childhood survival skills needed to handle adversity. These skills are then altered to better accommodate the present and future in a successful way.
Dr. McArthur steps you through how to handle the struggle to get back up again—and how you can recreate your life and be happier in the process. If counseling is financially out of your reach—this book gives you Dr. McArthur's 66 stories and examples, so you can powerfully learn how to:
Deal with insomnia and depression
Find new ways to live through grief
Use the power of nature to empower you
Allow negative feelings to guide you in understanding unresolved conflicts
Find an enduring romantic relationship, and nourish friendships
Devise a career that uses your strengths
Use your integrity and morality as a foolproof way to build self-esteem
Raise children well, especially those with special needs
Find good psychotherapy at a reduced fee
(317 pages)
Our staff has been up all night selecting the best new e-books to share. Will you send us a few bucks to keep the coffee flowing?