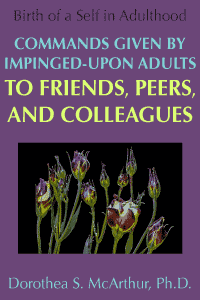 Commands Given by Impinged-upon Adults
Please provide your name and email to get free downloads.
Downloaded 170 times since
Excerpt:
This chapter examines the way in which impinged-upon adults try to compensate for their incompleteness by developing their own set of commands to give to other people. Many of these impinged-upon adults have managed to enter a profession but remain burdened with a sense of confusion and guilt. They are aware of their talent, on the one hand, but on the other, they feel insecure, guilty, and angry about their lack of support for success.