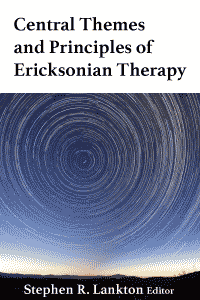 Central Themes and Principles of Ericksonian Therapy
Publisher: Brunner/Mazel
Please provide your name and email to get free downloads.
Downloaded 3610 times since
Excerpt:
In the spirit of intellectual freedom that inspired Milton Erickson's work, Central Themes and Principles of Ericksonian Therapy presents a multitude of articles indicating the far-ranging influence of Erickson's work, including: brief therapy, utilization approach, centrality of the self, scramble technique, treatment for chronic pain, childhood asthma, shyness, and application of ambiguous function.
While the aim of this book is to reflect the influence and applications of Erickson's work, Erickson himself disapproved of schools of therapy—eschewing "right" and "wrong" ways of doing therapy. He felt that the individuality of the patient and of the therapist is foremost and emphasized that psychotherapy should be formatted to meet the uniqueness of the individual's needs (260 pgs).
Reviews:
Stephen Lankton's lucid and readable prose puts the principles and applications of Ericksonian Therapy easily within the grasp of his readers. It is a pleasure to share in his insights, analyses, and therapeutic approaches. – Alexander A. Levitan, M.D., M.P.H
Therapeutic stories have earned respectability due to the pioneering work of Milton Erickson and the Lanktons. The Lanktons are talented therapists and teachers in the Ericksonian tradition. Their perambulation into the therapeutic process will be appreciated by those who value perceptiveness and imagination. – Jeffery K. Zeig, Ph.D.