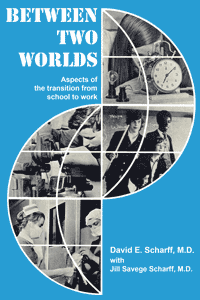 Between Two Worlds: Aspects of the Transition from School to Work
Publisher: International Psychotherapy Institute
Please provide your name and email to get free downloads.
Downloaded 1157 times since
Excerpt:
This book presents research into the transition from school to work, and into career counseling as it affects the 'non-academic' child. The work was carried out over several years in the 1970s by John M. Hill, Psychoanalyst and Director of the Centre for Applied Social Research, and by David Scharff, MD, for the Tavistock Institute of Human Relations, working under John Hill's direction.
The study presented here arose through a growing awareness that the needs of young school leavers were not being matched by the right kind of help. While teachers, parents and children themselves recognized the crucial importance of this stage of life, support and guidance were too often inadequate, resulting in lack of confidence, anxiety and other forms of disturbance.
Between Two Worlds focuses on the dilemma of the non-academic adolescent through close work with schools, and a large number of clinical interviews with children and their families of those who were on track to leave school at the earliest legal opportunity. The book is saturated with a psychoanalytic developmental perspective that illuminates the challenges facing these non-academic children and their families as they face the wider world.
This reprinting of the book, originally published in 1976, is enhanced by two chapters written by Jill Savege Scharff about studies conducted in one of the schools being researched, which she conducted during the year following David Scharff's studies. The book concludes with recommendations for enhanced teacher training in counselling and in human relationships and development; and for consultancy to schools in relevant curriculum design. It also explains implications of the research findings for the world of work. These many years later, with crises in higher education and in the transition to work for non-academic children, it remains essential reading for all those concerned with the vocational guidance of young people in schools, in community colleges and career counseling offices (917 pgs).
David E. Scharff, M.D. is Chair of the Board, Co-Founder and Former Director, International Psychotherapy Institute; Chair, The International Psychoanalytic Association's Committee on Family and Couple Psychoanalysis; Clinical Professor of Psychiatry, Uniformed Services University of the Health Sciences and Georgetown University; Supervising Analyst, International Institute for Psychoanalytic Training; Honorary Fellow, Tavistock Relationships, London; Former President, American Association of Sex Educators, Counselors and Therapists, and former Vice-President, International Association for Couple and Family Psychoanalysis. He is an internationally known teaching, having taught and organized courses and conferences in 30 countries. He is a Child and Adult Analyst in Private Practice with children, adults, couples and families in Chevy Chase, Maryland.
Dr. Scharff is author of more than 30 books and 80 articles, with important publications on family and couple therapy, psychoanalytic theory and history, and sex therapy. His earliest publications focused on the adolescent transition from school to work. This, his first book, published in the United Kingdom in 1976, on the subject of the transition from school to work, has been essentially unknown. Now, through freepsychotherapybooks.org it is available for those with interests in adolescent development, in education of adolescents, and in the entry of young people into the world of work.