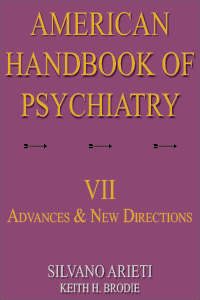 American Handbook of Psychiatry: Volume 7
Publisher: Basic Books, Inc.
Please provide your name and email to get free downloads.
Downloaded 5739 times since
Excerpt:
Among the topics considered are endorphins and psychosis, implications of split-brain studies, the latest findings on the genetic models of mental illness, psychopharmacotherapy as applied exclusively to children, the child at risk for major psychiatric illness, borderline syndromes in childhood, new changes in the psychoanalytic concepts of narcissism, new concepts of masked depression, biofeedback, concepts of human sexuality, new management of sleep disorders, the role of adult play in mental health, the prevention and treatment of mental retardation, the roles of computers in psychiatry, changes in law that pertain to psychiatry, current ideas on art, poetry, and music therapy, and the family of the schizophrenic as a participant in the therapeutic task. (2079 pp.)
Our staff has been up all night selecting the best new e-books to share. Will you send us a few bucks to keep the coffee flowing?