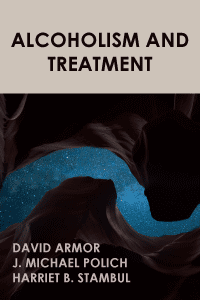 Alcoholism and Treatment
Publisher: The Rand Corporation
Please provide your name and email to get free downloads.
Downloaded 2999 times since
Excerpt:
Most studies of alcoholism treatment focus on the single issue of treatment success. The unusual richness of the NIAAA data on drinking behavior, encompassing large and heterogeneous national samples of alcoholics in treatment as well as normal drinkers in the general population, permits a broader scope for this study. Beginning with an analysis of the theories of alcoholism, the study establishes those assumptions about the nature and causes of alcoholism, which in turn shape and influence treatment goals and methods. This leads to a number of specific hypotheses about the success of different treatment modalities that can be evaluated using NIAAA data on treatment outcomes. Thus the study goes beyond a simple assessment of treatment success and examines the implications of treatment outcomes for alternative theories of alcoholism. (370 pp.)
Everyone who makes a donation of even a few dollars to this site has our permission to put "Official IPI Donor" on their CV.