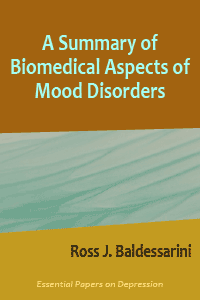 A Summary of Biomedical Aspects of Mood Disorders
Please provide your name and email to get free downloads.
Downloaded 444 times since
Excerpt:
Trends in MDI research have moved beyond the testing of amine hypotheses to enrich the clinical descriptive, diagnostic, genetic, endocrinologic and neurophysiologic understanding of the syndromes of MDI. These approaches have led to compelling support of bipolar and unipolar subtypes of MDI, to diagnostic laboratory tests at least as robust as those used in general medicine, and to unprecedented enlightenment in the clinical management of manic and depressed patients. These developments represent the most substantial contributions of a biomedical approach to psychiatry to date, and support the clinical and scientific value of the approach (93 pgs).